If you are thinking about growing your business or launching a new one, whether it is online or physical, the main thing to have in mind is that presence on the internet is essential to achieve success.
Nowadays, a business that is not on the Internet does not exist, and if we want new potential customers get to know us, find out about our products and services and, above all, that they can find them on the Internet when they are searching on Google, we should think in having an optimized website.
There are many methods that teach how to grow your business, but the one I am going to tell you about today has been proved, and we can demonstrate it throughout this post.
What you will find in this post
How to grow your business?
Well, this may sound a bit obvious, but in order to grow your company, what you need is to increase your clientele. And how do you achieve this?
How to increase your clientele
The reality is that there are hundreds of thousands of people searching on Google for your products or services, but if when they search, your website is not in the results, they will never see your business.
Let's see how many people are searching on Google and what they are looking for. With this free tool called Ahrefs you can see how many people search for certain words.
Let's say you have a business in California that offers surf lessons in La Jolla.
And now let's see how many people are looking for surf lessons in La Jolla every month: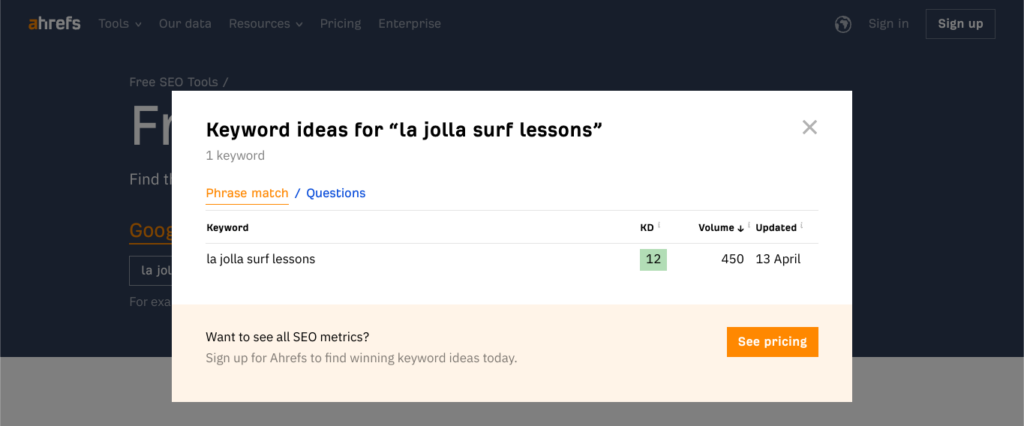 450 different people every month are looking for surf lessons in La Jolla!

And also if you change the way you write those keywords, because not all of us Google in the same way, we have even more people searching for the same thing, with different words:

400 people per month also looking for this service.
Can you see the potential that keywords have?
SEO Strategy to grow your business exponentially
So, imagine all the people who may be searching on Google your products or services, with different words and in different order. And that when they hit the search button, you and your company show up!
For this, it is necessary that we develop a keyword strategy, it is proven that SEO (Search Engines Optimization) can grow your business and maintain it over time, because it is the most natural and organic way to attract customers to your website, satisfying their search intention.
Growing your business with Local SEO: NAP consistency
Optimizing your Google My Business profile is another way that helps your business grow. For instance, the details about your company: NAP. NAP stands for Name, Address, Phone, and the importance of having this information consistent and unified throughout the internet builds trust and value. For this reason, always verify that both on your website and on your Google Maps profile you have this information unified so as not to generate confusion.
Attractive Web Design and user experience:
After being focused on the strategy and knowing what your potential customers are looking for, we are going to dedicate ourselves to designing a web site that really makes your business grow.
And you can achieve this by providing your users with a pleasant experience, an easy-to-use, simple platform that quickly shows a solution to what they are looking for, that internal links and links to other websites are correctly placed and visible. Basically optimize navigability with an attractive and clean aesthetic to improve the user experience.
An attractive web design will not only make your client stay in your website longer, but will also make them to return more times, in search of those products, services or valuable information that you provide.
Professional photography
Professional photography and high quality content across your website are very important for catching your user's interest but also will improve your online visibility. Statistics say that 80% of your visitors are more likely to engage with your content and stay on your website if images are quality and beautiful, and from them, 64% are more likely to remember you.
SEO Copywriting
Creating valuable and very interesting content for your user is also important to generate engagement. And also that content must be optimized for SEO. What does that mean?
SEO copywriting is creating content with relevant keywords, this method will help you to climb positions in the ranking of search engines. When doing it properly, choosing keywords for your homepage, for your products, for your blog posts, you will increase the visibility of your business on the Google Ranking.
Conclusion: Growing your business is not impossible
If you read until the end, thank you! We really hope your doubts about how to grow a business are clear now!
And if you're feeling overwhelmed by all that needs to be done in order to grow your business, we're here to help. With an organized work guide and giving you our help and advice in our expertise: SEO web Design, we can make your path to success more fun, exciting and rewarding.
Do not do it alone, send us your query and we will see how we can help you.
Have a great day!